Return to Monkey Island will be released next month
Pre-order customers will get horse armour with "no practical use"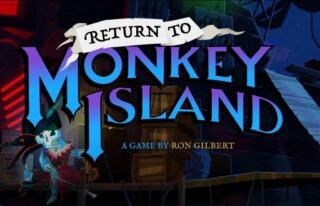 The release date for Return to Monkey Island has been confirmed.
In a new trailer shown during Gamescom's Opening Night Live presentation, it was confirmed that the game will be released on September 19.
Players can pre-order the game now. and receive free horse armour with their pre-order (an apparent joke reference to the first prominent cosmetic DLC released for The Elder Scrolls IV: Oblivion).
"Please note that the horse armour has no practical use in-game and in no way will contribute to the gameplay, puzzles or narrative of Return to Monkey Island", the trailer jokingly states.
Announced in April, Return to Monkey Island is a follow up to the acclaimed adventure game series led by original writer and director Ron Gilbert.
Gilbert's Terrible Toybox studio is making the game in collaboration with Devolver Digital and Lucasfilm Games.
The game's first trailer confirmed that Dave Grossman, co-writer and programmer on the original Monkey Island games, will also be returning, alongside composers Michael Land, Peter McConnell and Clint Bajakian, and Dominic Armato as the voice of Guybrush.
However, Gilbert has since said he will no longer post about Return to Monkey Island online, due to what he called "personal attack comments".
The developer has received criticism from some fans over the art style change between the classic Monkey Island titles and the upcoming sequel, criticism which he has previously called "sad".
In June, Gilbert claimed on his personal blog that the negativity was becoming too much for him, and that he would be shutting down comments and no longer sharing about the game.
"I'm shutting down comments. People are just being mean and I'm having to delete personal attack comments," he wrote.
"It's an amazing game and everyone on the team is very proud of it. Play it or don't play it but don't ruin it for everyone else. I won't be posting anymore about the game. The joy of sharing has been driven from me."