Retailer glitch allows customers to buy Switch Lite consoles for free
Some users managed to secure multiple consoles, with others claiming they'll resell them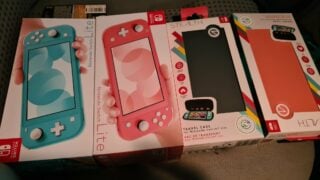 UK retailer Argos has pulled Nintendo Switch Lite from its website after users discovered a glitch that allowed them to purchase consoles for free.
The website loophole, which was discovered on Thursday and shared on popular reseller groups, involved adding a particular carry case to the website basket, in addition to a Switch Lite, to apply an erroneous discount covering the entire cost of the order (£206.98).
This meant that users exploiting the trick only had to pay a delivery charge of £3.95 – or collect their console from a local store for nothing.
Argos seemingly moved quickly to remove both Swich Lite and the carry case from their website, and at the time of publishing the items are still offline.
Dozens of users took to social media to boast of their free – or sub-£10 if ordering extras – order, with many stating that they were planning to sell the console for profit. Some even managed to secure multiple consoles for free.
It's not the first time an error with Argos' website has resulted in a win for scalpers. Earlier this year a popular reseller group discovered a loophole that allowed them to access and purchase PS5 stock before it was made available to the public.
Argos eventually closed the loophole allowing users to place orders early, but many PS5 consoles appeared to have been claimed before it took action.
Like many regions, UK consumers searching for consoles such as PS5 and Nintendo Switch have been regularly frustrated by retailers selling out of consoles, as well as regular claims from scalper groups that they'd been able to obtain significant orders for the purpose of reselling for profit.
In January one firm behind bot software used to beat virtual retail queues claimed its users had secured over 2,000 orders to resell for profit. Another UK-based scalper group made similar claims on its social media accounts.
Earlier this year the UK government responded to calls for action against scalper groups who target and resell high-value items such as PS5 and Xbox Series X consoles.
In its response, the UK government stated that it had already introduced legislation to target the use of automated bot software, which is popular with resellers who use it to purchase high-value items faster than normal consumers.