Resident Evil 3 remake team confirms it made changes to link to Resident Evil 4
VGC previously revealed that a Resident Evil 4 remake is in development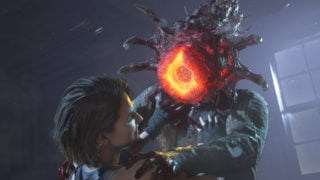 The Resident Evil 3 remake development team has revealed it made changes to the game specifically to link it to sequel Resident Evil 4.
In a new interview with the PlayStation Blog, interview answers credited to the development team claim that the original design of RE3's Nemesis was changed to better place him within the series' timeline.
Zombies infected by Nemesis with parasites were deliberately made visually similar to the Plagas-infected Ganados in order to connect RE3 with RE4, the development team said.
"We inevitably decided on [Nemesis'] final ability due to the presence of Ganado in Resident Evil 4," the interview reads, referring to RE4's humanoid enemies.
"Ganado are humanoid enemies that are created through being infected with the Plagas parasite, the original basis for NE-α."
The team added: "We wanted NE-α infected enemies to be visually similar to the Plagas-infected Ganados as a means for fans to piece together how Nemesis fits within the whole Resident Evil franchise."
The changes potentially represent a significant retcon to Resident Evil's storyline, as in the original Resident Evil 4 the Umbrella corporation is still investigating Plagas.
Resident Evil 4 sees Umbrella agent Ada Wong dispatched to obtain as much information as possible about Plagas, and attempt to secure a sample.
The news adds further credence to a VGC report revealing that Capcom is working on a Resident Evil 4 remake.
The project is in development at Osaka-based M-Two, the new studio founded by former PlatinumGames head Tatsuya Minami, which has been preparing for its development since 2018, development sources told VGC earlier this year.
According to noted insider Dusk Golem – who also confirmed VGC's report – Resident Evil 4 has a larger development team than the series' previous two remakes, including support from Capcom's internal Resident Evil 2 and Devil May Cry 5 teams.
Many original Resident Evil 4 developers remain among these teams, VGC understands, including producer Hiroyuki Kobayashi, who recently worked on Mega Man 11, and designer Kouji Kakae, who recently worked on Devil May Cry 5.
Resident Evil 4's original lead coder Kiyohiko Sakata was the game director for the Resident Evil 3 remake via his company Red Works. However, a person with knowledge of Resident Evil 4's development told VGC the remake is being directed by a newcomer at M-Two.
According to another report, Resident Evil 8 will release on current and next-gen consoles in 2021.
Like Resident Evil 7, the 2021 game will feature a first-person perspective and returning protagonist Ethan Winters.