Research firm reveals Q1's top-grossing PC and console games in the US and UK
Hogwarts Legacy was "the defining game of this past quarter"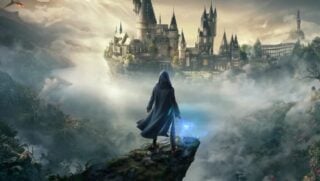 Research firm Newzoo has revealed what it claims were the top-grossing PC and console games in the US and UK during the first quarter of 2023.
Based on retail and in-game sales, Hogwarts Legacy was the highest-grossing game on PC by far in Q1, it said.
It was also the highest-grossing PlayStation and Xbox game in the US. In the UK, FIFA 23 took the top spot ahead of Hogwarts Legacy.
Warner's open-world action RPG sold over 12 million copies and raked in $850 million in sales globally in the first two weeks following its release on February 10, making it the company's biggest launch ever.
It enjoyed the largest European launch outside of the FIFA and Call of Duty series since October 2018's Red Dead Redemption 2, and was the best-selling game in the US during the first quarter, ahead of Modern Warfare 2 and the Resident Evil 4 remake.
Following several delays, Hogwarts Legacy will be released for PS4 and Xbox One on May 5, and for Nintendo Switch on July 25.
Survival game Sons of the Forest and Riot's Valorant were also notable PC successes during the first quarter of 2023. In the US, the former was the second-highest grossing game and the latter was the third-highest grossing title, with their positions reversed in the UK.
Dead Space, The Sims 4, League of Legends, Roblox, Modern Warfare 2 and Fortnite were also among the top 10 highest-grossing PC games in both the US and the UK in Q1.
The US and UK console revenue charts contained many of the same titles as each other too. NBA 2K23 was at No.2 in the US and No.8 in the UK, while Fortnite was at No.3 in both.
FIFA 23, Modern Warfare 2, Grand Theft Auto 5, Destiny 2 and Dead Space also appeared on both lists.

First-party games dominated Nintendo Switch software sales, taking 14 of the 20 available places across the US and UK top ten charts.
Metroid Prime: Remastered led the way in the US and was at No.2 in the UK, behind Fortnite.
Related Products
Other Products
Some external links on this page are affiliate links, if you click on our affiliate links and make a purchase we might receive a commission.