Remaining Telltale games being removed from GOG
Titles purchased prior to delisting will remain playable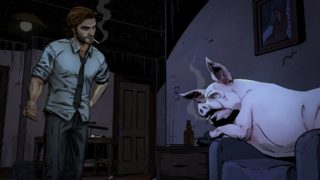 GOG is to remove the remaining Telltale Games titles from its digital storefront next Monday, May 27.
The move will see the following delisted: Tales from the Borderlands, The Wolf Among Us, Marvel's Guardians of the Galaxy, the Batman, Sam & Max and Puzzle Agent series, Hector: Badge of Carnage, and Strong Bad's Cool Game for Attractive People.
"Sadly, we need to inform you that, due to company's closure, all the remaining Telltale titles will be delisted from our catalog on Monday, May 27, 10am UTC," a representative said.
"For everyone who purchased any of said titles prior to delisting, the games will remain in their GOG library."
Tales from the Borderlands has also been removed from sale on Steam, although 2K Games, which has a vested interest in the title, told Eurogamer it hoped the game will be available again soon.
"We are working to get Tales from the Borderlands back up on digital storefronts as soon as possible," a spokesperson for the publisher said. "All prior digital purchases of the game will of course still be honoured and supported."
It's unclear if the affected games are likely to remain on other digital marketplaces in the long-term.
Several of Telltale's older series were removed from Steam after the company went into liquidation in November 2018, including licensed titles like Jurassic Park: The Game and Back to the Future: The Game.