Redfall's concurrent Steam players have hit single figures every day for the past two weeks
At times there aren't enough players for 4-player co-op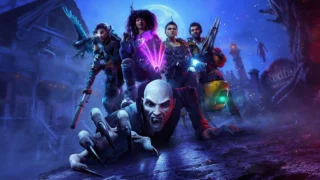 The number of concurrent players of Redfall on Steam has dropped so low that it now reaches single figures every day.
When the game launched five months ago, it was played concurrently by thousands of players for a while, hitting a peak of 6,124 concurrent players at some point.
However, as noted by PCGamesN, the game's concurrent player count now dips so low that there are certain times of the day where it's not possible to fill a full four-player co-op lobby because there are fewer than four players playing the game.
Further research by VGC, via SteamDB, shows that the game has in fact hit a single-figure player count at some point every single day since September 22, a full two weeks.
At times this has dropped to as low as two players, such as at 5.20am ET / 10.20am BST on Sunday, October 1.
At the time of writing, the game's peak concurrent player count in the past 24-hour period has been 36 players, which was reached at 2.20pm ET / 7.20pm BST on Wednesday.
As an Xbox exclusive published by Microsoft-owned Bethesda, Redfall is also available on Game Pass for both Xbox and PC – as such, there will still be at least some other PC users playing the game through this method.

Last month Bethesda's head of publishing Pete Hines said the company will make Redfall "a good game", despite an underwhelming reception at launch.
"The Elder Scrolls Online's PC launch was not flawless but we stuck with it," Hines told GamesIndustry.biz. "Now it's like this insanely popular multiplatform. It's the same with Fallout 76. Redfall is no different for us.
"Okay, we didn't get the start we wanted, but it's still a fun game, and we're going to keep working on it. We're going to do 60 frames per second.
"We're going to get it to be a good game because we know, as a first-party studio, Game Pass lives forever. There will be people ten years from now who are going to join Game Pass, and Redfall will be there."
Related Products
Other Products
Some external links on this page are affiliate links, if you click on our affiliate links and make a purchase we might receive a commission.