Red Dead Redemption 2 PC unlock time confirmed
Rockstar's game arrives on PC today a year after its console release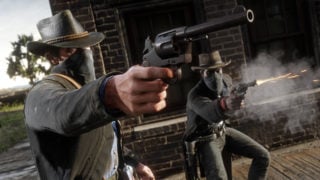 Rockstar has confirmed that the PC version of Red Dead Redemption 2 will be playable from 8am EST / 5am PT / 1pm GMT on Tuesday, November 5.
Those who pre-purchased the game can pre-load it in preparation for its unlock time.
While the game will be playable today on the Rockstar Games launcher and the Epic Games launcher, it won't be released on Steam until December.
Rockstar recently detailed a range of exclusive content for the PC version of Red Dead Redemption 2, including increased draw distances, improved shadows and lighting, plus new grass and fur textures.
New story mode content, which has yet to be confirmed for other platforms, includes three bounty hunter missions, two gang hideouts, two treasure maps, four weapons, plus fresh horses and trinkets to collect.
The Red Dead Redemption 2 PC launch trailer also showcases some of the new release's graphical and technical enhancements.
Red Dead Redemption 2 will be released on Stadia when the cloud gaming platform launches on November 19.
Red Dead Redemption 2 has shipped over 25 million units worldwide since its PS4 and Xbox One release in October 2018, publisher Take-Two said in August.
The company may provide updated sales figures for the title when it reports its second quarter financial results this Thursday, November 7.