Red Dead 2 and Rockstar Launcher updated to address ongoing PC issues
Rockstar suggests fix for stuttering impacting some players with NVIDIA graphics cards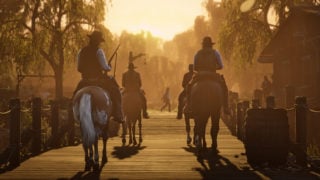 New Red Dead Redemption 2 and Rockstar Games Launcher updates have been released in a bid to reduce ongoing problems being experienced by PC players.
The launcher update (restart the launcher to apply it) resolves an 'Activation Required' issue when players were attempting to play the game in offline mode, while the title update (see notes below) includes various fixes and introduces some new content to the game.
Players with NVIDIA graphics cards and 4-core or 6-core CPUs experiencing stuttering are advised to update to the GeForce Hotfix Driver Version 441.34 and remove any command line arguments.
Users have encountered numerous issues with the game since it released on November 5, leading to a series of Red Dead Redemption 2 PC updates designed to fix the problems and an apology from the studio last week.
Rockstar recently listed what it considers to be the remaining "high priority problems" with the PC version of Red Dead Redemption 2.
"While this is not a comprehensive list, we have identified the group of key remaining issues below as high priority problems that we are working to resolve in future updates targeted to release starting early next week," it said on November 16.
Red Dead Redemption 2 PC update Nov 19
General / Miscellaneous – PC
Improvements to address an issue that resulted in stalls on 4-core and 6-core CPUs
Players with NVIDIA graphics cards and 4-core or 6-core CPUs should install the GeForce Hotfix Driver Version 441.34 from NVIDIA and remove any launch arguments to resolve this issue: For more information, please see this support page:
Improvements to address an issue that resulted in a permanent mouse cursor being displayed at all times when launching the game via the Epic Games Store
Improvements to address an issue that resulted in the player's cores draining at a faster rate than intended in Story Mode when running at high frame rates
Improvements to address an issue that resulted in player weight decreasing at a faster rate than intended in Red Dead Online when running at high frame rates
Improvements to address an issue that resulted in players not being able to place Waypoints on the Pause Menu Map in the correct location
Improvements to address an issue with matchmaking in Red Dead Online that resulted in players with incompatible control settings joining the same session. We recommend that players using mouse and keyboard controls should switch to 'Free Aim' targeting mode before entering Red Dead Online.
Improvements to address an issue that resulted in all custom graphical settings reverting to a low preset when the game was updated
Improvements to address an issue that resulted in an 'Activation Required' error when loading the game after system hardware or device changes were made
Improvements to address issues that resulted in a crash and displayed the 'Failed to initialize graphics device' or 'Unable to initialize graphics driver 'errors when launching the game. If this issue still occurs, please make sure you have the latest graphics card drivers installed for your system.
Improvements to address an issue that resulted in a crash when launching the game in Fullscreen display mode while using Vulkan
Improvements to address an issue that resulted in a crash when launching the game with some graphics-related launch arguments active
Improvements to address an issue that resulted in a crash during loading screens when entering Story Mode or Red Dead Online
Improvements to address an issue that resulted in a crash while modifying weapons at the Gunsmith in Red Dead Online
Improvements to address issues that resulted in random crashes and the error "Red Dead Redemption 2 exited unexpectedly" during gameplay
New Content
A new Legendary Bounty has been added to Red Dead Online:
Weekly Collectible List – Bowman's Collection:

Flint Arrowhead
Raw Arrowhead
Agate Arrowhead

New Permanent Clothing items have been added to the Wheeler, Rawson & Co. Catalogue:

Cardenas Poncho
Chumley Flat Cap
Crutchfield Suspenders
Dress Shoes (Male Only)
Aguirre Boots (Female Only)
Fulbright Coat (Male Only)
Ballard Jacket (Female Only)
Salcedo Shirt (Male Only)
Goodale Shirtwaist (Female Only)
Bandanna (new tints)
Trimmed Bandana (new tints)
Rockstar Games Launcher update Nov 19
General / Miscellaneous
Fixed an issue that resulted in an 'Activation Required' screen when attempting to run Red Dead Redemption 2 in offline mode