Rare's cancelled N64 game Dinosaur Planet has leaked online
Fully playable build offers a glimpse at the game which became Star Fox Adventures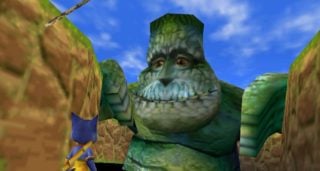 A fully playable build of Rare's cancelled Dinosaur Planet N64 game has leaked online.
The action-adventure title – which was eventually repurposed for GameCube as Star Fox Adventures – was obtained and shared online by games preservationists Forest of Illusion, the same group which obtained a Zelda 64 beta last month.
The leak represents the first time anyone outside of Rare has been able to play the N64 version of Dinosaur Planet, outside of trade shows in the late 90s and early 2000s.
According to Forest of Illusion, the leaked build was purchased from a private game collector in Sweden. "The file date lists the build as being from December 1st 2000," they said. "It seems to be quite a late build of the game which is great, but it will need some hacking to be fully playable to the end."
Announced in 1999, Dinosaur Planet was due to be Rare's swansong for the Nintendo 64, with vast environments and voiced dialogue requiring the use of the RAM Expansion Pak and an unprecedented 512Mb cartridge – which would've been the largest released for the console.
However, with development taking longer than expected, Nintendo eventually ordered the project to be moved to its new GameCube console, along with a switch to the Star Fox franchise.
According to popular legend, Shigeru Miyamoto had been shown footage of Dinosaur Planet and suggested that the game should be re-tooled to incorporate Fox McCloud.
Lead programmer Phil Tossell told Nintendo Life in 2012 that the sudden change was not "accepted willingly by all" of the game's development team as the plot had to be entirely re-written in places to accommodate the Star Fox canon, while significant changes were made to the game's structure.
"I don't know for sure where the idea originally came from, but I definitely heard it mentioned that Miyamoto-san had suggested it. Of course we were slightly disappointed at having to change Dinosaur Planet as we had all become so attached to it, but we could also see the potential of using the Star Fox licence."
He added: "We had an initial trip to Nintendo's headquarters in Kyoto for about a week where we discussed the changes that would be required to make the game fit in well with the Star Fox universe. Sitting in a room discussing gameplay ideas with Miyamoto-san is certainly one of the highlights of my career and I still have his business card carefully stored away."
Interestingly, the leaked N64 build does feature Fox McCloud instead of the original protagonist Sabre, which suggests that Rare had already started the switch to Star Fox before moving the game to GameCube.
It's the first time Fox has ever been seen inside of the N64 version. However, other assets and dialogue – which still reference Sabre – suggest this was a very early change. VGC has reached out to original development team members for clarification.
The side character Krystal was intended to have a much larger role in the N64 game as a fully playable character, with players having to switch between Sabre and Krystal throughout the adventure.
Tossell claimed in the 2012 Nintendo Life interview that the move to a disc-based medium, in particular, had caused headaches for the development team, since N64's cartridges made a loading-free world much easier to implement. "In addition, with the move to Star Fox branding we had space levels which we had never envisaged in the beginning," he explained.
Fox's sidekick Tricky also caused headaches. "Keeping the misbehaving little dinosaur in check was a lot of work!" Tossell said. "There was a lot of setup involved to ensure that Tricky always stayed with Fox and didn't get lost or trapped."
Dinosaur Planet is the second cancelled Rare title to leak this month, following the emergence of a fully playable GoldenEye Xbox Live Arcade build.
Related Products
Other Products
Some external links on this page are affiliate links, if you click on our affiliate links and make a purchase we might receive a commission.