Rap musician Machine Gun Kelly will be playable in WWE 2K22
The game's soundtrack, "hand-picked" by Kelly, has also been confirmed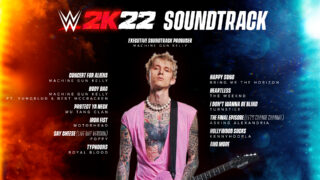 2K Sports has announced that Machine Gun Kelly will be a playable character in WWE 2K22.
The rapper, singer, musician and actor will not be included in the game on day one, but will be added as part of a post-launch DLC pack.
Kelly has also been revealed to be the game's 'executive soundtrack producer', and 2K claims he "hand-picked" the game's soundtrack.
This includes tracks by the likes of Wu-Tang Clan, Motorhead, WWE favourite Poppy and Kelly himself.
The confirmed songs to be included in the game's tracklist include:
Machine Gun Kelly – Concert for Aliens
Machine Gun Kelly ft. YUNGBLUD & Bert McCracken – Body Bag
Wu Tang Clan – Protect Ya Neck
Motorhead – Iron Fist
Poppy – Say Cheese (Live NXT version)
Royal Blood – Typhoons
Bring Me The Horizon – Happy Song
The Weeknd – Heartless
Turnstile – I Don't Wanna Be Blind
Asking Alexandria – The Final Episode (Let's Change the Channel)
KennyHoopla – Hollywood Sucks
When it releases on March 11, WWE 2K22 will be the first WWE 2K title since the series skipped an annual release due to the disastrous launch of WWE 2K20.
WWE 2K20 was a disappointing full debut for developer Visual Concepts, resulting in one of the lowest Metacritic scores in 2K's history, mostly due to a huge number of technical issues at release.
In 2020, in a bid to enact a "renewed focus" on quality, publisher 2K hired former Double Helix studio head Patrick Gilmore to take over WWE 2K.
In VGC's recent WWE 2K22 hands-on, we said: "While we'll need to spend longer with its in-ring mechanics to see how they hold up to repeat play sessions, the core changes that have been made here are enormously positive ones, and will hopefully result in one of the better WWE games we've seen in a while."