Rainbow Six cheater suspected of hoax that sent armed police to Ubisoft Montreal
But police reportedly believe there's "very little chance" of extraditing French citizen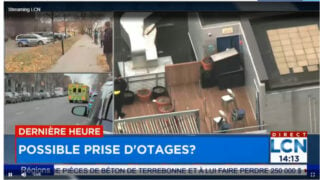 A serial Rainbow Six cheater is suspected of being responsible for the hoax 911 call that caused armed police to deploy to Ubisoft Montreal last year.
According to a report published by La Presse, Montreal's SPVM police suspect that French national Yanni Ouahioune made the hoax call on November 13 in revenge for being banned more than 80 times from Rainbow Six Siege for cheating.
According to court documents, Ouahioune contacted 911 at 1:11 p.m using a telephone hacking technique called spoofing, making it appear that the call came from inside of Ubisoft's Montreal building, where the developers behind Assassin's Creed operate.
Ouahioune is alleged to have reported that five men demanded a ransom of $2 million CAD to free 40 employees, for lack of what he was going to "blow up everything".
The threats were taken seriously. Armed police were dispatched to the location of Ubisoft Montral's office, where hundreds of staff members had barricaded themselves on the rooftop to prevent a possible assailant from attacking them.
Eventually, nearly 400 people were evacuated to buses where social workers were waiting for them.
According to La Presse, the incident cost Ubisoft $1.7 million CAD ($1.4m USD) in lost productivity, plus $15,000 CAD in psychological support services and $40,000 in material damage.
The same suspect is accused of another hoax which took place in December, when a caller reported an alleged pipe bomb near Ubisoft's internal daycare, and another call in January which claimed that an executive had been taken hostage.
Ouahioune reportedly admitted to La Presse that he was indicted by the French authorities for having created a fake Ubisoft site aimed at stealing the accounts of other Rainbow Six players, and that he had also been involved in a swatting case in 2017.
However, he denied being the author of the November 13 hoax, as well as the two similar false alerts which occurred in the months following.
"I didn't do anything. I just cheated in their video games. The only time I called Ubisoft was to insult them for banning me," Ouahioune said. "Normally, just for the buzz, I would have said that it was I who sent the police to Ubisoft, but hey, now the buzz is zero."
According to the publication, even if the investigation remains active, the police consider there is "very little chance" that Ouahioune will be formally accused of the Quebec incident, due to the fact that France refuses to extradite its citizens.
In a statement, Ubisoft's VP of communications, Cédric Orvoine, said the company did not want to comment on the information, for fear of harming the ongoing police investigation.
"Our priority remains to protect the progress of the investigation which, we hope, will make it possible to identify and condemn the person (s) responsible for the events of last fall. In agreement with the SPVM investigators, we will not make any other comments."