Rage 2's first story expansion slips to September
Paid DLC sees slight delay, as latest update adds new game modes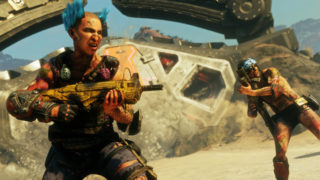 Rage 2's first story expansion, Rise of the Ghosts, will be released later than originally planned.
According to an updated DLC roadmap for the game, published by Bethesda this week (and pictured below) to coincide with the arrival of a new game update, the Rise of the Ghosts expansion has slipped from its previously scheduled August release window to September.
Set to be released as paid DLC, Rise of the Ghosts will add a new storyline, a fresh enemy faction, plus extra weapons, abilities, vehicles and areas to explore.
It's one of two planned story expansions for the game, with the other one due for release in November.
News of the delay coincides with the release of a chunky free update for the open world shooter.
It introduces New Game Plus, Ironman mode, plus an Ultra Nightmare difficulty level, in addition to various bug fixes and quality of life improvements – full details on those can be read here.
VGC's Rage 2 review said the game was let down somewhat by its open world elements, but that the "abilities, weapons and controls combine to create some of the best shooting in the genre."