Rage 2 pre-orders rewarded with NBA Jam announcer
Available as a pre-order bonus for the open-world shooter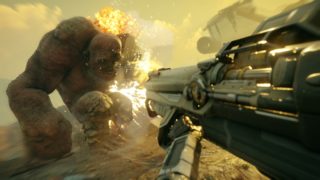 Bethesda has released a new Rage 2 trailer showcasing a pre-order bonus which sees voice artist and NBA Jam announcer Tim Kitzrow commentating on the in-game mayhem.
It mixes classic commentary from the basketball series – including "he's on fire" and "boomshakalaka" – with new narration created specifically for the post-apocalyptic shooter, which is co-developed by id Software and Just Cause maker Avalanche Studios.
The Rage 2 release date is set for Tuesday, May 14 on PC, PS4 and Xbox One.
According to the official story blurb: "An asteroid has annihilated 80% of the earth's population, and humanity's numbers are dwindling. Ruthless and bloodthirsty gangs roam the open roads and the tyrannical Authority seek to rule with an iron fist.
"As Walker, the last Ranger of the wasteland and a threat to their power, you have been robbed of your home and left for dead. Now you'll have to rage for justice and freedom.
"With ludicrous vehicle combat, super-powered first-person mayhem, and an open world full of emergent madness, you will tear across an unforgiving wasteland battling sadistic gangs to find the tools and tech needed to crush the oppressive rule of The Authority once and for all."
Bethesda's confirmed that its annual E3 showcase will take place on Sunday June 9 at 5.30pm PT / 8.30pm ET / 1.30am UK June 10 / 2.30am CET June 10. The publisher says it'll feature "an in-depth look at Doom Eternal plus much, much more".