Quantic Dream announces its indie label Spotlight, and its first two releases
Under the Waves and Lysfanga will be out this year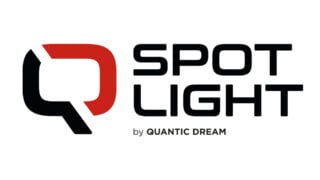 Quantic Dream has officially announced its new indie label.
'Spotlight by Quantic Dream' is the new brand the Paris-based company behind such narrative games as Heavy Rain, Detroit: Become Human and Beyond: Two Souls will use to publish third-party games made outside its own studio.
The first two games to be released under the Spotlight by Quantic Dream name will be Under the Waves and Lysfanga: The Time Shift Warrior.
Under the Waves is set for release on August 29, and will be released on PS5, Xbox Series X/S, PS4, Xbox One and PC.
Developed by French indie developer Parallel Studio, the game is set in "a techno-futuristic 1970s" and follows a professional diver called Stan as he explores the depths of the North Sea while "struggling to overcome a life-changing loss".
Players will travel through the ocean and explore caves and wrecks while also "following the mysterious manifestations of [Stan's] memories".
The second Spotlight by Quantic Dream game set to be released is Lysfanga: The Time Shift Warrior, which is due later this year on PC.
Another game developed by a French indie developer (Sand Door Studio), Lysfanga follows Ime, a protector of the realm who's been given powers by the Goddess of Time.
The result is a hack and slash game with tactical elements, as players rewind time and create duplicates of Ime, eventually building a small army who head in different directions to perform multiple actions at once.
In the future Spotlight will also release Dustborn, which is currently under development at Norwegian studio Red Thread Games, but a release date has yet to be confirmed for this.
"Spotlight by Quantic Dream provides partner studios with all the expertise that makes Quantic Dream games special", a statement from the publisher reads.
"When you see the Spotlight by Quantic Dream logo on a game, you can expect the game to have been crafted by a passionate team with the help of a team of Quantic Dream experts.
"It is our way of shining a light on studios we believe in and support their passion for their project. It's also a seal of quality, assuring our players and community we have carefully selected the project and the team behind it."
Last year NetEase agreed to acquire Quantic Dream for an undisclosed sum. In a press release issued by the Chinese company, it was stated that the studio would continue to operate independently after the deal.
Related Products
Other Products
Some external links on this page are affiliate links, if you click on our affiliate links and make a purchase we might receive a commission.