QuakeCon 2019 sessions and streaming schedule detailed
Today's Doom Eternal keynote begins at 11am CDT / 5pm UK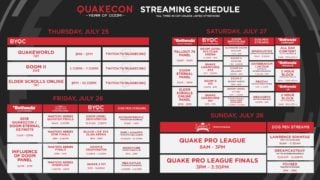 Bethesda has detailed the line-up of events and the streaming schedule for QuakeCon 2019 in Dallas.
While the convention is celebrating a range of the publisher's games, QuakeCon 2019 has a heavy Doom focus to commemorate the 25th anniversary of the influential shooter series.
As detailed on Bethesda's site, the main event kicks off with today's Doom Eternal keynote at 11am CDT / 5pm UK.
It will be followed at 12pm / 6pm UK by a panel looking at the influence the original Doom has had on video games and the wider industry, featuring leads from id Software, MachineGames and Bethesda.
Both sessions will be viewable live on Bethesda's Twitch channel, as will Saturday's headline events.
At 10am CDT / 4pm UK on Saturday July 27, Bethesda Game Studios will be discussing the future of Fallout 76.
Then at 11am CDT / 5pm UK, developers from id Software will provide the first live gameplay demo of Doom Eternal.
And at 2pm CDT / 8pm UK, Elder Scrolls Online's game director and creative director will be discussing the evolution of the title over the years, plus upcoming DLC plans.
QuakeCon has been running since 1996 and traditionally includes a large, paid, bring-your-own-computer LAN party for competitive play, and Twitch's QuakeCon and Quake channels will be covering Doom and Quake competitive play in various forms from today until Sunday.
Bethesda is also bringing QuakeCon to the UK for the first time with a free event being held today and tomorrow at Printworks, London. It marks the first time Doom Eternal will be publicly playable outside of North America.