Pyra and Mythra will release for Smash Bros. Ultimate today
Players can switch between Pyra and Mythra at will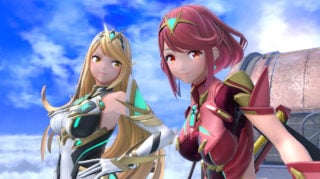 Pyra and Mythra from Xenoblade Chronicles 2 will be coming to Super Smash Bros Ultimate later today.
The dual-character fighters will be available as part of the game's Fighters Pass 2 or individually for $5.99 USD / £5.39, Nintendo confirmed on Thursday.
Players can switch between Pyra and Mythra at will, similar to the way Zelda and Sheik could transform into each other in earlier Smash Bros games, director Masahiro Sakurai explained during a live stream.
Pyra and Mythra will arrive alongside a new stage called Cloud Sea of Alrest, where players fight on the back of Azurda (also know as Gramps), a Titan from the game who also carries Rex's home.
Each character has their own strengths and weaknesses. Pyra is the more powerful character of the two, but Mythra is faster.
Launching alongside Pyra/Mythra are new paid Mii Fighter costumes, which include Arthur's Armor and Helm from the Ghosts 'n Goblins, and the Rathalos Armor and Helm and the Hunter Armor and Helm from the Monster Hunter series.
Nintendo announced the dual character – the fourth of Ultimate's second Fighters Pass – during a Nintendo Direct in February.
The Xenoblade Chronicles 2 heroes follow Smash Bros.' last fighter, Sephiroth from Final Fantasy 7, which was announced during The Game Awards in December. Before that, Steve from Minecraft was revealed in October and caused Twitter to crash.
Game director Masahiro Sakurai has said that the current DLC Fighters Pass is likely to be the game's last.
Writing in his regular Famitsu column last summer, Sakurai indicated that following the completion of the current DLC pipeline, "continuous Smash development from Smash for 3DS/Wii U will finally come to an end."
Sakurai previously said he feels there's "no way" the series will be able to have as many fighters or series represented again in future games.
He said "If Smash Bros. continues in the future, then there's no way this many fighters and series can be represented again. There are still requests from all over the world for new fighters in Smash."
Related Products
Other Products
Some external links on this page are affiliate links, if you click on our affiliate links and make a purchase we might receive a commission.