PUBG Season 9 launches its new map, which changes major landmarks each match
Paramo is now available on the PC test server and coming to consoles soon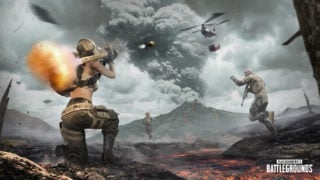 PlayerUnknown's Battlegrounds Season 9 has been detailed ahead of its imminent launch.
The battle royale game's first dynamic map, Paramo, is the headline feature of its 9.1 update, which is now available to preview on the PC test server and will hit the console test server on October 19.
Season 9 officially launches on October 21 for PC via Steam, and on October 29 for Xbox One, PS4 and Stadia.
Set in the mountains of South America and featuring streams of molten lava flowing from a volcano, Paramo is a 3×3 map that changes its major landmarks between matches.
Paramo's Blue Zone delivers more damage to players compared to other maps, while stepping out of bounds for too long will result in death. To balance things out, Paramo introduces a new item called the Critical Response Kit which can revive downed players in one second.
During matches, support helicopters will drop loot outside of the play area unless players deliver enough damage to them to make them release the goods early.
Season 9 will also introduce a new ranked season including a ranked solo queue, plus a fresh Survivor Pass with Paramo-themed rewards.