PUBG Season 7 introduces bots on consoles
To help new players sharpen their skills and get some kills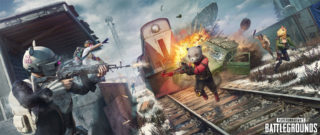 PlayerUnknown's Battlegrounds Season 7 will introduce bots in public matches on PS4 and Xbox One.
PUBG Corp said on Friday that the new feature is designed to make the three-year-old battle royale game more welcoming to newcomers who are increasingly struggling against veteran players.
Bots will be added as part of PUBG's 7.1 update, which refreshes the game's Vikendi map, among other features.
Console live servers will undergo maintenance for four hours on April 27 at 10pm PDT/April 28 at 7am CEST to apply the update, after which the latest Survivor Pass, titled Cold Front, and more will be available (patch notes).
"We're seeing more often that many newer players are being eliminated early with no kills – and oftentimes with no damage dealt", Joon H. Choi, lead project manager of the PUBG console team, wrote in a blog post.
"Bots can have both positive or negative effects on a game depending on how well it is programmed," he went on to acknowledge, before detailing some of the ways in which the artificial combatants have been designed to replicate human player behaviour.
With regards to movement, PUBG said bots will navigate maps intelligently, taking note of environmental hazards and seeking out the shortest route to their destination.
Bots have also been "set loot targets… so that they loot and have the appropriate items for each phase", for example SMGs for close-quarters battles in the early game and rifles for long-range engagements later on, plus they'll consider bullet physics when shooting instead of hitting enemies based on "rather simple probability".
Choi said PUBG Corp will be implementing machine-learning techniques to monitor payer behaviour and apply the learnings to bots going forward.
"We hope that introducing bots will help players get more shooting practice and kills, a higher average survival time, and maybe even that first exciting chicken dinner. Basically, the full battle royale experience.
"As for our more experienced players, you are less likely to engage bots the higher your MMR is. In addition to that, there will also be the next evolution of competitive PUBG in our new Ranked system due out next month, which will not have any bots."
Fellow battle royale game Fortnite added bots to its non-competitive playlists in 2019.