PS5's new 'driving survivial game' Pacific Drive revealed during State of Play
Players scavenge for resources to maintain and improve their car in order to survive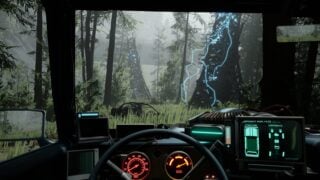 Pacific Drive, a run-based first-person driving survival game has been announced.
Developed by Ironwood Studios, the game sees the player scavenge for resources to maintain and improve their car in order to survive.
Set in 1955, the United States government seized a region of the Pacific Northwest by eminent domain. The game is planned for release in 2023 for PlayStation 5 and PC.
"The Olympic Peninsula became the staging ground for promising new technologies, but these utopian creations came at great cost: severe radiation, environmental collapse, and supernatural horrors. The government walled off the area and established the Olympic Exclusion Zone. What happened inside was never disclosed," reads a description for the game on the PlayStation Blog. 
"We love weird science, stories from road trip adventures, and we've always been intrigued by the dark and mysterious worlds from games like S.T.A.L.K.E.R. or books like Annihilation.
"In Pacific Drive, we've been able to bring these passions together by creating an adventure that will take you deep into the heart of the Pacific Northwest riding in an ancient station wagon that, over time, can become your own substantially modified 80's sci-fi machine to upgrade, explore, and risk the dangers of the Zone with," said Alex Dracott, founder & creative director at Ironwood Studios.
"The team at Ironwood has been working passionately to make that idea a reality. After three years of work, we couldn't possibly be more excited to share Pacific Drive, and we're thrilled to be working with PlayStation to do so."
"Structured as a "road-lite", each trip from your garage into the Zone is full of strange anomalies and technologies, and plenty of radiation. If you keep your car in good shape, you'll be safe to explore, scavenge for resources, and drive further into distinct biomes that offer more valuable rewards.
The land shifts with every passing storm, making each journey a unique experience. Discovering new resources will allow you to outfit your vehicle with defenses, trick out your garage, and find more dangerous routes that bring you deeper and deeper into the Zone."
Developer Ironwood Studios was formed in 2019 and collects industry talent from studios like Sucker Punch Productions, Insomniac Games, Irrational, Klei, 343, Bungie, Activision and Oculus.