PS5's handling of cross-gen saves criticised following 'ridiculous' Avengers transfer process
Players need to have the PS4 version installed and manually migrate their save over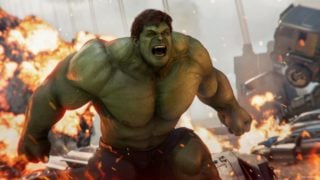 PS5's handling of cross-gen games is again receiving criticism this week, after Marvel's Avengers players realised they would need to manually transfer their saves to the new next-gen version of the game.
The game's official Twitter account posted a thread this week explaining the steps players need to follow if they want to continue their progress on the PlayStation 5 edition.
Players need to have the PS4 version installed on their console with the latest update applied. They will then see a 'save migration' tab on the main menu.
This allows players to upload their game save to the game's server, which they will be prompted to download when they next boot up the PS5 version.
Those who have uninstalled the PS4 version of Avengers will need to install or download it again – the game is over 50GB in size – just to transfer their save file to the PS5 version.
The process is similar to other games with PS4 and full PS5 versions, which require players to upload their save data from the PS4 version of the game before continuing on the new console.
However, Avengers has still led to criticism by players who feel the process is unnecessarily lengthy, especially compared to setup on Xbox, where Smart Delivery means that save data automatically transfers between versions (because within Microsoft's ecosystem, Smart Delivery games are the same game across generations).
Forbes journalist Paul Tassi criticised the process further on Twitter, explaining that he couldn't even migrate his save over because of issues with the cloud upload.
Tassi has been far from alone in his criticism. Spawn on Me podcast host Kahlief Adams posted a screenshot of his download queue with various versions of Avengers queued, with the message "Smart delivery HALP!"
"Thought about jumping back in with the PS5 version, but this is ridiculous," said Twitter user J. Mendoza. "I did this for the Spiderman remaster, cause that was worth it. I don't think Avengers is worth the hassle."
PS5's overall handling of cross-gen releases has received criticism since launch.
Outside of its handling of save transfers, initially the platform featured unclear signposting for different game versions, which led to some players inadvertently playing the PS4 versions of next-gen games they own (this was later fixed in late December).
Since next-gen consoles launched in November, it's also become clear that developers are seemingly able to add more next-gen features via patch on Xbox, but not on Sony's console.
Crystal Dynamics recently confirmed that the game's PlayStation-exclusive Spider-Man content has been delayed, and might not release in 2021.
It hasn't all been bad news, however – comparisons have found that the PS5 version loads the game in a fraction of the time the PS4 version takes, reducing loads that take more than a minute down to just a few seconds.