PS5 users customise their console's logo with classic design and backlight
Players have used various means to change the console's appearance since launch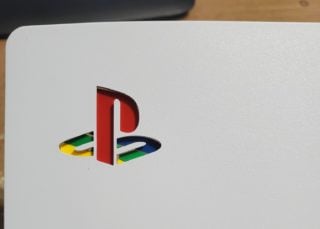 PlayStation 5 comes in one colour scheme at launch (white and black) and Sony hasn't said if additional colours will be available in the near future.
Unsurprisingly, considering the ease in which PS5's white panels can be removed, this has caused many owners to start customising their consoles with new colour schemes of their own.
This week a pair of users took PS5 customisation a step further with bespoke treatments to the logo cut-out on the console's left plate – an often overlooked design feature in previous paint jobs.
One Twitter user created custom, laser-cut inlays for the PS5's PlayStation logo complete with a retro-themed colour scheme.
The user said he created the logo using cutting tools at home. He added that he'd be willing to sell the plastic inlays in the future, should Sony not object.
Another user on Reddit went a step further with a custom backlight for their PS5 logo. User Stewartjja said he created the effect by cutting an electroluminescent panel into a custom shape and then plugging it into one of PS5's USB slots.
"I decided to backlight the Playstation logo on my PS5 and this is the outcome from the first attempt," he wrote. "It's really easy to do. El panel cut and placed under the logo.
PS5 owners have been showing off their custom PS5 paintjobs since its first launch on November 12. One Reddit user used Plastidip to transform their PS5 into a black console.
Another PS5 owner used a vinyl wrap to change the appearance of their console. Vinyl wrapping is more traditionally used to protect a car's paint and provide customisation options.
A peripheral company selling custom PS5 faceplates was recently forced to cancel all its orders and pull the products from sale, following reported legal action from Sony.
PlateStation5.com had already been forced to rebrand to CustomizeMyPlates.com following a complaint from Sony, before it was hit with subsequent legal threats that resulted in it stopping selling the product entirely.
Customize My Plates looked to crowdfunding platform Gofundme to possibly bring back the custom PS5 faceplates, but at the time of publishing it's raised just £300 or a £75,000 goal.
As revealed in an official PlayStation 5 teardown video last month, PS5's standard white shell snaps off, theoretically allowing the unofficial replicas to be easily inserted in its place.
Sony has yet to announce any variation from PlayStation 5's standard white design or even commit to releasing additional console shells in the future.
Related Products
God of War Ragnarök (PS5)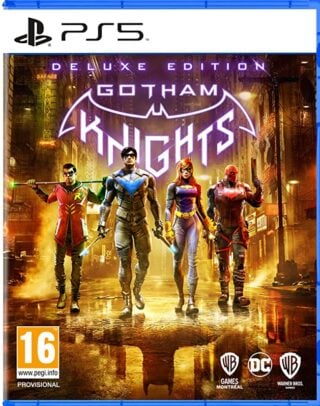 Gotham Knights - Deluxe Edition (PS5)
Other Products
Some external links on this page are affiliate links, if you click on our affiliate links and make a purchase we might receive a commission.