PS5 controller could connect directly to PS Now servers, patent suggests
Next-gen pad may operate similarly to Google Stadia controller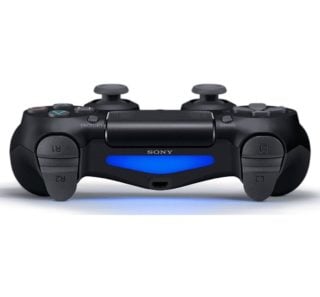 The PlayStation 5 controller could connect directly to PlayStation Now servers via built-in WiFI, a newly published Sony Interactive Entertainment patent suggests.
Filed in May 2019 and published in September, the patent (via Techtastic) is titled 'Network Connected Controller for Direct to Cloud Gaming'.
[UPDATE: A Sony Interactive Entertainment (SIE) patent has revealed images of what could be the PS5 controller.]
UPDATE 07/04: Sony has officially unveiled PS5's DualSense controller, which it calls "a radical departure" from its previous DualShock pads.
ORIGINAL STORY CONTINUES:
It describes a "controller device for user interactivity with a server of a cloud gaming system", whose "inputs are communicated directly over the network to the server, bypassing the client device" and reducing latency.
Google Stadia, which launches on November 19, offers controllers with built-in WiFi that directly connect to Google's servers when you're playing games.
Sony recently announced a holiday 2020 launch date for PlayStation 5 and went into detail on the PS5 controller, which is set to feature haptic feedback, "adaptive" triggers and more.
While the concept outlined in Sony's patent may or may not make its way into a consumer product, Sony Interactive Entertainment CEO Jim Ryan said in July he expects PS Now to play an increasingly important role in the PlayStation business over the coming years.
And in early October, Sony slashed PlayStation Now prices in a bid to be more competitive with rival streaming services.
Other recently published Sony patents suggest the company could be developing a next-gen PlayStation VR headset that operates wirelessly, and an AI voice assistant called PlayStation Assist.