PS5 and Xbox Series X stock will be on sale at GameStop stores on December 23
Thursday's console sales events will only be available to GameStop Pro members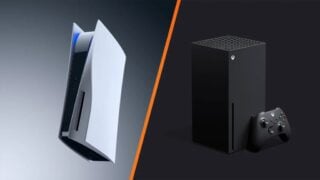 GameStop will be selling PlayStation 5 and Xbox Series X console bundles at some of its stores this Thursday, December 23.
As well as being limited to selected stores, PS5 and Xbox Series X consoles will only be available to GameStop PowerUp Rewards Pro members.
You can check if your local store is participating via the PS5 sale event and Xbox Series X sale event pages on GameStop's website.
UPDATE 23/12/21 at 4.53am PT / 7.53am ET: PS5 and Xbox Series X consoles are also being sold online at Target today.
PS5 console covers trailer
ORIGINAL STORY CONTINUES: Priced at $14.99 / $19.99 annually depending on the chosen package, GameStop Pro membership provides users with loyalty rewards, extra trade in credit, a Game Informer subscription, and access to exclusive offers and events.
US-based consumers hoping to purchase a PS5 console can also register their interest directly with Sony for a chance to do so. The company is making a limited number of PS5 consoles available for customers to purchase directly from PlayStation this holiday season.
Sony recently announced plans to release official coloured faceplates for PS5. Its range of 'console covers' will start rolling out in January 2022 and will come in five separate colours, designed to match those of current and upcoming DualSense controllers.
Before the covers launch, Sony will release three new DualSense colours – Nova Pink, Starlight Blue and Galactic Purple. These controllers will launch globally starting in January 2022.
The controllers will then be followed by the release of the console covers, with Midnight Black and Cosmic Red arriving in January.
The Nova Pink, Starlight Blue and Galactic Purple console covers will be released later in the year, during the first half of 2022.