PS4 beta update 8.50 removes Communities feature
Spring system software test rolling out now for selected users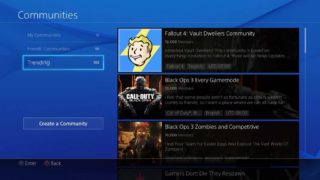 Sony is rolling out invites for selected users to test PlayStation 4 beta update 8.50 ahead of the new software's wider release.
According to MP1st, the spring 2021 software beta removes PS4's Communities feature, which enables users to create groups based around shared interests.
Released in September 2015 as part of PS4 system software 3.00, Communities also includes a message board and the ability to join parties and games.
PS4's 8.00 system update removed the ability to create private Communities last year, although existing ones could still be accessed.
It appears this will no longer be the case once system update 8.50 is released.
Also included in the upcoming update is the ability to toggle message notifications on/off for different groups.
And on the game session screen, players will be able to select the 'Request to Join' button to ask a session leader to join their game.
Finally, when players play a game they've hidden, other users will no longer see them play it.
PS4's 8.00 system update, which launched in October 2020, also included changes to Party and Messages features, parental controls and more.
Its release didn't go smoothly, resulting in several issues, with #PS4UPDATE even trending on Twitter as players voiced privacy concerns related to Sony's ability to access voice and message data.