Princess Peach Showtime gets a release date
The game sees Peach take on several roles in different theatres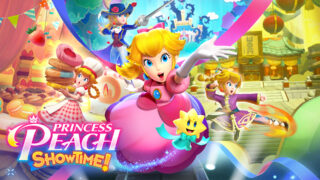 Nintendo has announced the final title and release date for its upcoming Princess Peach game.
The game, which was announced earlier this year without a title will now be called Princess Peach Showtime! and will release on March 22, 2024.
"Just as Princess Peach and her retinue of Toads are attending a show at the Sparkle Theater, the wicked Grape and the Sour Bunch take center stage to cause a ruckus," reads Nintendo's description of the game.
"Now it's up to Peach and Stella, the theater's guardian, to save the play – and the day."
Peach can use the power of Stella's ribbon to transform into various outfits, each with their own abilities (similar to a Kirby game).
" For example, Peach can become a Swordfighter to fend off foes with sensational swordplay, mix it up with martial arts moves as Kung Fu Peach or show off her sweet skills as a pastry chef," Nintendo says.
"And one more thing – she can even crack the case as Detective Peach."
The game marks the second time Peach has starred in her own game, the first being Super Princess Peach on the Nintendo DS.
The 2005 title was a 2D platformer in which Peach could use her emotions as powers – for example, by crying, she could water beanstalks to make them grow.
Related Products
Other Products
Some external links on this page are affiliate links, if you click on our affiliate links and make a purchase we might receive a commission.