PowerWash Simulator adds paid Back to the Future DLC
The $8 pack includes five stages and 10 new achievements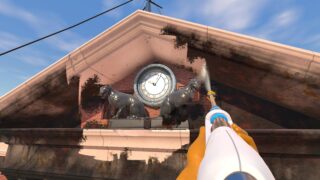 A new paid DLC pack for PowerWash Simulator containing Back to the Future content has been released.
The pack, which costs $7.99 / £6.50, contains five stages, covering iconic buildings and vehicles from all three movies.
Players will have to clean:
Doc Brown's van
The DeLorean time machine
Hill Valley Clocktower
Holomax Theater from BTTF 2
Doc Brown's time train from BTTF 3
The DLC will also include ten new achievements, and will include "easter eggs, references and hidden details" for fans of the movies to spot.
This is the fourth licensed DLC for the game, and the second to be paid DLC.

The first DLC pack for the game was a free pack based on Tomb Raider, which included Croft Manor, its obstacle course, its maze, Lara's Jeep and motorboat and her Treasure Room.
This was followed by free Final Fantasy VII DLC, which had players cleaning the Hardy Daytona and Shinra Hauler, the Scorpion Sentinel, Seventh Heaven, the Mako Energy Exhibit and the Airbuster.
The first paid DLC for the game was a SpongeBob SquarePants pack, which included six stages – Conch Street, the Krusty Krab and the Chum Bucket, the Bikini Bottom Bus, the Patty Wagon, the Invisible Boatmobile and the Mermalair.
A fifth pack, based on Warhammer 40,000 is set to be released in the future.
PowerWash Simulator was also released on Meta Quest 2 and 3 earlier this month.