PopCap explains how it brought the Frostbite Engine to Switch: 'At first it was a slideshow'
Plants vs Zombies: Battle for Neighborville is the first Switch game to use EA's engine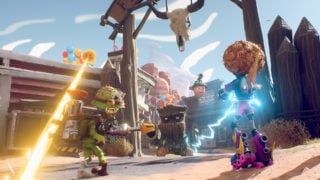 The producer of Plants vs Zombies: Battle for Neighborville has explained the difficulty in bringing the Frostbite Engine to the Nintendo Switch for the first time.
PopCap's Melvin Teo told the How Games Make Money podcast (as transcribed by VentureBeat) that the process was a lengthy one.
"When we first started Battle for Neighborville, [bringing the game to Switch] was always the plan," Teo explains, "but we never had the time or the opportunity, so we didn't when we first launched it back in 2019.
"But yeah, then we spent the last year and a half bringing it over to the Switch and making sure that Frostbite worked on the platform because we are the first ever Frostbite title to be launched on the Nintendo Switch."
According to Teo, the first time the team was able to boot the game on the Switch the results were awful. "I remember when we first started and we managed to get the game to boot up and run", he says. "And it hit like 2 or 3 frames per second. It was a slideshow, and we had a lot of work to do."
This work was carried out in collaboration with QLOC SA, a studio that specialises in porting games and had previously been responsible for Switch versions of Hellblade: Senua's Sacrifice and Dragon's Dogma: Dark Arisen.
"We made a lot of really smart engineering decisions and optimizations to make it run at a steady 30 frames per second without compromising the visual quality of the game," Teo says.
The Switch has missed out on ports of a number of EA games because they use the Frostbite Engine, which EA hasn't implemented for Nintendo's console until now.
The FIFA series uses the Frostbite engine on Xbox One and PS4/5, but the Switch version instead uses a modified version of the Ignite Engine used for FIFA 16 and the subsequent 'Legacy Editions' on Xbox 360 and PS3.
On March 9 the Switch will get a port of EA's Apex Legends, which runs on a modified version of Valve's Source engine. This has been developed in collaboration with Panic Button, the studio responsible for the critically praised Switch ports of Doom and Doom Eternal.