Pokémon Violet is now the lowest-rated main Pokémon game on Metacritic
Performance issues have led to some critics scoring the game lower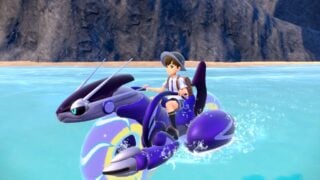 Pokémon Violet now has a lower Metacritic score than any other main game in the history of the Pokémon series.
The game currently has a Metacritic of 72, while its accompanying version Pokémon Scarlet sits at 73.
This doesn't necessarily mean Scarlet is the better game – most critics were given one version to review so the average reviews for each title likely just happened to fall that way.
Violet's lower score, however, means the game is now behind Brilliant Diamond & Shining Pearl, the previous lowest-rated main Pokémon entries, which both got Metacritic scores of 73.
Despite offering a number of new features said to push the Pokémon series forward, Scarlet and Violet have mainly been criticised for having numerous performance issues at launch.
In VGC's Pokémon Scarlet and Violet review, we said the games were the most feature-rich Pokémon titles in years but suffered from technical issues.
"The huge expansion and changes to the single player campaign are great, the size of the world and the joy of exploration are the best in the series, and the new Pokemon and battle mechanics introduced all sing," we wrote.
"However, it's just impossible to shake the thought of how much better the game would feel if it was on more powerful hardware, or simply ran acceptably on Switch."
The full list of main Pokémon games listed on Metacritic, in order of highest score to lowest, currently stands at:
X & Y – 87 & 88
HeartGold & SoulSilver – 87
Black & White – 87
Sun & Moon – 87
Diamond & Pearl – 85
Ultra Sun & Ultra Moon – 84
Platinum – 83
Legends: Arceus – 83
Omega Ruby & Alpha Sapphire – 83 & 82
FireRed & LeafGreen – 82
Ruby & Sapphire – 82
Black 2 & White 2 – 80
Let's Go Pikachu & Eevee – 80
Sword & Shield – 80
Emerald – 76
Brilliant Diamond & Shining Pearl – 73
Scarlet & Violet – 72 & 73
Last week Nintendo apologised for performance issues in Pokémon Scarlet and Violet, and pledged to make improvements to the games.
In a statement, the company said: "We are aware that players may encounter issues that affect the games' performance. Our goal is always to give players a positive experience with our games, and we apologize for the inconvenience.
"We take the feedback from players seriously and are working on improvements to the games."
Related Products
Other Products
Some external links on this page are affiliate links, if you click on our affiliate links and make a purchase we might receive a commission.