Pokémon Sword and Shield Nintendo Direct announced
15-minute presentation scheduled for June 5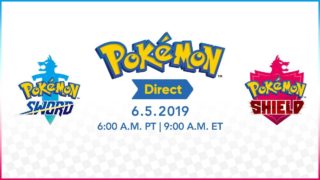 Nintendo is to host a Pokémon Sword and Pokémon Shield Nintendo Direct broadcast on Wednesday June 5.
The company said the online presentation will kick off at 6am PT / 9am ET / 2pm UK and last for approximately 15 minutes.
Announced in February, Pokémon Sword & Pokémon Shield will be the first core entries in the RPG series to be released on a home console when they hit Switch later this year.
As sales of the eight-year-old 3DS continue to decline, Nintendo president Shuntaro Furukawa recently discussed the possibility of attracting more handheld gamers to Switch.
"Pokémon Sword and Pokémon Shield are being developed to emphasise the fun of playing Nintendo Switch in handheld mode," he said.
"We want these games to be played not only by long-time Pokémon fans, but also by consumers whose first encounter with the series was on a dedicated video game platform with Pokémon: Let's Go, Pikachu! and Pokémon: Let's Go, Eevee!."
Pokémon developer Game Freak is increasingly prioritising original game creation in order to grow the experience of its staff, programmer and director Masayuki Onoue told VGC earlier this month.