Pokémon Sword and Shield modders already inserting missing monsters
Modding community inserts Let's Go models following #GameFreakLied controversy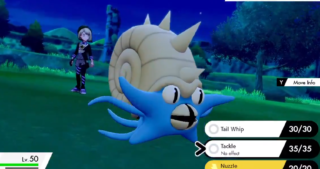 Pokémon Sword and Shield fans have started inserting monsters missing from the game just days after its release.
Pokemon modder SciresM has posted videos of Pokémon Omastar – who isn't included in Sword and Shield – running in the Switch exclusive with full animations.
According to the modder, he was able to import the character's Let's Go model with no additional changes.
Sword and Shield is the first main entry in the series that doesn't include every Pokémon, a decision that has not been popular with fans, especially following the discovery that many of its character models are identical to those used in 2016 3DS entry Sun and Moon, and 2018 Switch release Let's Go Pikachu and Eevee.
The discovery that models had been reused caused frustrated players to make "#GameFreakLied" trend on Twitter worldwide ahead of Sword and Shield's November 15 release.
The 3D creature models and animations used in Pokemon games are created by Creatures Inc – a part-owner of The Pokemon Company – under the supervision of Game Freak.
It's worth noting that other visual elements beyond the game models themselves could still have increased the game's art production time, and the modding community's ability to hack missing monsters into the game is not necessarily an indication of the actual work required.
Game Freak has frequently acknowledged fan frustration over the decision to limit Sword and Shield's Pokedex.
However producer Masuda recently reiterated there are "no plans" to add additional monsters to the game in the future.
Tech site Digital Foundry said in its analysis that fan concern over the game's visuals were "partly justified."
Specifically on the reuse of character models, it said: "The wireframe may have a similar grounding, but Switch's lighting and material work are clearly a step up. It's an upgrade for at least that reason."
It added: "The texturing and the way the materials interact with the newer engine lighting will have needed work across the board from Game Freak. That doesn't fully explain the cut in the Pokedex though.
"For starters, model quality was already improved for Let's Go, with the same more realistic style applied on those original 151 creations. Sword and Shield has some overlap with these, but quite a few are missing in the Galar region. That's despite the fact, fundamentally, they're already made. So why not add them to bolster the ranks?"
VGC analysis reveals that about a third of Pokémon Sword and Pokémon Shield's 300+ person core team contributed to other projects during its development.