Pokémon Scarlet & Violet's online RNG move accuracy is 'rigged', player claims
The game's random calculations are the same every time, it's claimed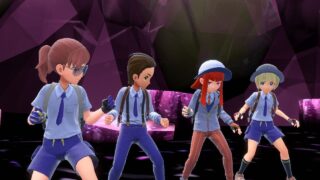 A Pokémon Scarlet and Violet player has claimed that the game's online multiplayer battles are fundamentally flawed.
The Battle Stadium mode, where players can take on others from around the world, reportedly uses the same RNG seed for each battle, according to Twitter user Sibuna_Switch.
What this essentially means in practice is that the 'random' numbers the game calculates for things like move accuracy are the same every time.
As a result, players can theoretically use this knowledge to know when to perform powerful moves with low accuracy, because they'll know when these moves will hit.
As explained in a Twitch video by hopcatsmash: "For example, if on the first turn of a match you use a move that's less than 91% accurate, it always misses.
"And if you know when things are going to miss, you can work out when things are going to hit.
"If you use Fake Out and then straight away use Sheer Cold, a move that only usually has a 30% chance to hit and always one-shots your opponent [knocks them out in one hit], it's guaranteed to hit.
"Not making a new RNG seed is like if you played cards but you just used the same deck and never shuffling it. You just know what's coming next, it's stupid, it doesn't make any sense. This basically makes PvP unplayable until they fix that."
It's not clear why the RNG works this way in online games, but in theory Game Freak could decide to change it via an update in future.
Nintendo announced last week that Pokemon Scarlet and Violet had reached "the highest global sales level for any software on any Nintendo platform within the first three days", with 10 million units sold in its first 72 hours worldwide.
In VGC's Pokémon Scarlet and Violet review, we said the games were the most feature-rich Pokémon titles in years but suffered from technical issues.
Related Products
Other Products
Some external links on this page are affiliate links, if you click on our affiliate links and make a purchase we might receive a commission.