Pokémon Scarlet and Violet's next patch will arrive in February
Pokémon Home's mobile app will also receive an update next month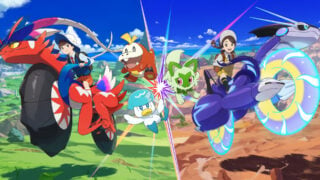 Pokémon Scarlet and Violet's next patch will arrive in February, it's been confirmed.
While details on exactly what the Version 1.2 patch will do are not yet clear, it's said that it will "include bug fixes and add functionality".
While this added functionality is currently unknown, Pokémon Home's mobile app will be receiving an update around the same time. This suggests the service – which allows players to move Pokémon between games – could be added to Pokémon Scarlet and Violet as part of the update.
The news of the patch was shared alongside a new commemorative Pokémon video called 1008 Encounters, celebrating the 1008 Pokemon that are now part of the franchise.
Pokémon Scarlet and Violet launched last year with a large number of technical issues. While the game has received one major update, some issues remain.
At the time of the first major update, Nintendo apologised for performance issues that players have encountered, saying that it will "take the feedback from players seriously and [is] working on improvements to the games."
It said: "We are aware that players may encounter issues that affect the games' performance. Our goal is always to give players a positive experience with our games, and we apologise for the inconvenience.
In VGC's Pokémon Scarlet and Violet review, we said the games were the most feature-rich Pokémon titles in years but suffered from technical issues.
"The huge expansion and changes to the single player campaign are great, the size of the world and the joy of exploration are the best in the series, and the new Pokemon and battle mechanics introduced all sing," we wrote.
"However, it's just impossible to shake the thought of how much better the game would feel if it was on more powerful hardware, or simply ran acceptably on Switch."
Related Products
Other Products
Some external links on this page are affiliate links, if you click on our affiliate links and make a purchase we might receive a commission.