Pokémon Scarlet and Violet introduces Wiglett
Wiglett is not related to Diglett, despite appearances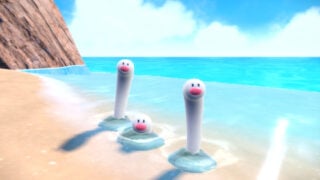 The Pokémon Company has revealed Wiglett, a new Pokémon that will debut in Pokémon Scarlet and Violet later this year.
"It may look like Diglett, but it's a completely different species of Pokémon. Wiglett pokes a part of its body out of the sand to feed in the ocean."
Diglett is a ground-type Pokémon that first appeared in Pokémon Red and Blue.
Pokemon Scarlet and Violet Guides:
Pokemon Scarlet and Violet walkthrough, tips, and Pokemon locations | Roaring Moon location | Iron Valiant location | Shiny sandwich recipes | Pokemon Scarlet and Violet Legendaries | How to find Shiny Pokemon in Scarlet and Violet
The Pokémon Scarlet and Violet official website has revealed some more information about the new Pokémon.
"It's still unclear what the rest of its body hidden in the sand is like or how long it might be," the bio for the new Pokémon reads.
"Wiglett Has a Sense of Smell That Can Pick up Scents from over 60 Feet Away!​ Boasting an exceptional sense of smell, Wiglett is able to pick up scents from over 60 feet away.​ It has a skittish disposition and is constantly cautious of its surroundings. When it notices the scent of other Pokémon, Wiglett burrows into the sand to conceal itself.​"
The next entries in the series, Pokémon Scarlet & Violet, will be released in November and let up to four players explore an open world together freely.
Earlier this month, Nintendo announced plans to launch a special edition Switch OLED console themed around Pokémon Scarlet & Violet.
The Nintendo Switch OLED Pokémon Scarlet & Violet Switch Edition console will launch on November 4 with a suggested retail price of $359.99.
Related Products
Other Products
Some external links on this page are affiliate links, if you click on our affiliate links and make a purchase we might receive a commission.