Pokemon Scarlet and Violet glitch is seeing players duplicate legendary Pokemon
It's not clear when the glitch will be fixed with a future patch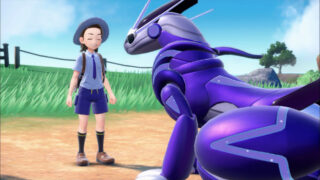 A series of duplication glitches have been discovered in Pokemon Scarlet and Violet, including some that seemingly allow players to duplicate legendary Pokemon.
We reported last week that an exploit was seemingly allowing players to continually catch the same shiny Pokémon over and over. However, it now seems that more duplication glitches have popped up.
Polygon reports that some TikTok users have seemingly found ways to duplicate not only items, but legendary Pokemon, the latter of which is significant as only two of the box legendary Pokemon for each game are typically available.
The item glitch takes advantage of the picnic system. If a player places a picnic table over a sparkling area on the ground, the item that was found in that sparkling area can seemingly be endlessly duplicated, when typically the item would disappear after being picked up once.
The legendary duplication glitch requires players to have completed the game past the Area Zero questline and be able to transform their ride Pokemon, Miraidon or Koraidon, into battle form.
Once players have done that, the goal is to trick the game into letting them deposit the Pokemon into the storage box, something they shouldn't be able to do. However, as Polygon reports, some players have been able to pull off the required inputs fast enough to trick the game into both depositing the Pokemon into the storage box and having the Pokemon remain in their party.
It should be noted that with all duplication glitches, the internal data of the Pokemon is identical to the original Pokemon, something that shouldn't be possible through normal means, and should Game Freak deploy a patch to identify duplicated Pokemon as it did for Pokemon Brilliant Diamond and Shining Pearl, this could affect save data.
In VGC's Pokémon Scarlet and Violet review, we said the games were the most feature-rich Pokémon titles in years but suffered from technical issues.
"The huge expansion and changes to the single player campaign are great, the size of the world and the joy of exploration are the best in the series, and the new Pokemon and battle mechanics introduced all sing," we wrote.
"However, it's just impossible to shake the thought of how much better the game would feel if it was on more powerful hardware, or simply ran acceptably on Switch."
Related Products
Other Products
Some external links on this page are affiliate links, if you click on our affiliate links and make a purchase we might receive a commission.