Pokémon players disqualified from World Championships for using hacked Pokémon
A viable competitive Pokémon could take dozens of hours to train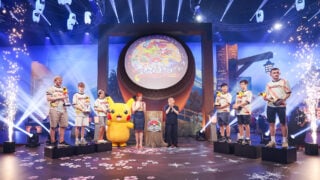 Several Pokémon players were disqualified from the Pokémon World Championships over the weekend for using hacked Pokémon.
The 2023 Pokémon World Championships took place over the weekend in Yokohama Japan, and say thousands of players compete across several different Pokémon disciplines, such as the Pokémon Trading Card Game, Pokémon Go, Pokémon Unite, and, arguably the most popular event, the Pokémon Video Game Championships (known as Pokémon VGC).
However, this year saw several professional players disqualified from the event for using hacked Pokémon. While these Pokémon are technically obtainable in the game via normal gameplay, this could take hundreds of hours. This has led players to use third-party applications to generate the Pokémon with the optimal stats.
Another factor is that due to some Pokémon only being available in certain games, some players, including some of the pro players that were disqualified, used these hacked Pokémon seemingly to circumvent those requirements.
"D-Q'd at 2-0. Should have gotten my mons myself!," wrote Brady Smith on Twitter. "I guess like the weirdest part in all of this is that they waited til the WCS to start upping their game. I wish it was consistent throughout all the season, but at least we now have this consistently established. They are finally not messing around, get your mons legit, y'all!"
Using hacked Pokémon has been a regular occurrence in the Pokémon VGC community for years. While some use it for nefarious means, it's largely used to save time. In high-level competitive Pokémon play, each Pokémon has to be trained to a specific set of stats.
Doing this in-game can take a significant amount of time, especially if a player is using a Pokémon that can't be found in the wild, and is instead hatched from eggs. Players have argued that in the process of building and testing various competitive teams, it's prohibitively time-consuming to expect players to be able to naturally train every Pokémon that they use.
In previous years, and in many regional tournaments, the security checks for these hacked Pokémon are lax, meaning players have easily used entire teams of hacked Pokémon to compete and even qualify for the Pokémon World Championship. However, it now appears that The Pokémon Company is taking a much more severe stance on the matter.
Related Products
Other Products
Some external links on this page are affiliate links, if you click on our affiliate links and make a purchase we might receive a commission.