Pokémon Legends gets a patch making it easier to catch Cherrim
Some players were reporting that it was nearly impossible to catch at times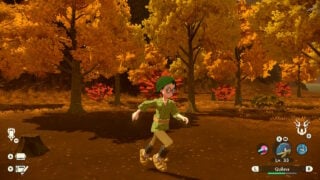 Nintendo has released a new update for Pokémon Legends: Arceus, which includes a number of bug fixes.
The most notable of these addresses an issue some players had been reporting, in which was nearly impossible to catch a Cherrim.
According to some, Cherrim who appeared in the lower area of the Lonely Spring seemingly had a bugged catch rate, whereas Cherrim caught in the upper area could e caught with relative ease.
The new patch, which brings the game up to version 1.02, fixes this issue along with a handful of others.
Pokemon Legends: Arceus - VGC review
Pokémon Legends: Arceus sold 6.5 million copies in its first week, making it the fastest-selling Pokémon game on Switch.
Blending action and exploration with Pokémon's RPG roots, Pokémon Legends: Arceus has one of the most unique settings in the history of the series.
Rather than the regular challenge of defeating gym leaders and the Elite Four to become a Pokémon master, Legends focuses on discovery, with players challenged with studying Pokémon in a bid to complete the Hisui region's first Pokédex.
VGC's Pokémon Legends: Arceus review called it "the series' best game in years", claiming it's "the breath of fresh air the series has needed for so long".
The full patch notes for the new update are as follows:
Pokémon Legends: Arceus – version 1.02 patch notes
Fixed an issue where, while offline, the screen could freeze after trying to pick up a lost satchel by throwing out a ball that contains a Pokémon.
Fixed an issue that sometimes made it difficult to catch Cherrim.
Fixed an issue where a certain event would not occur during a particular Mission, preventing the scenario from proceeding as intended.
Fixed an issue where players could obtain certain Pokémon twice instead of once only as intended, prohibiting the player from obtaining other certain Pokémon. The relevant Pokémon will appear for players who were unable to catch those certain Pokémon due to this issue.