Pokémon Legends Arceus trailer teases new-look final forms for the starters
Decidueye, Typhlosion and Samurott will have a different appearance this time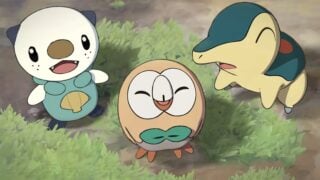 A new trailer for Pokémon Legends: Arceus teases fresh designs for the starter Pokémon's final evolutions.
The trailer mainly includes a montage of gameplay, but at one point near the end it also shows the starter Pokémon evolving into their third and final forms, although it only shows them in sihouette.
At the start of the game players will get to choose between Rowlet, Cyndaquil and Oshawott as their starter, who over time will evolve to Dartrix, Quilava and Dewott respectively.
However, it's their third forms – Decidueye, Typhlosion and Samurott – which are being teased with new looks in the trailer, which can be seen here:
Pokemon Scarlet and Violet Guides:
Pokemon Scarlet and Violet walkthrough, tips, and Pokemon locations | How to invite friends online Pokemon Scarlet and Violet | How to breed eggs in Pokemon Scarlet and Violet | Where to get the Master Ball in Pokemon Scarlet and Violet| How to change outfit Pokemon Scarlet and Violet
"You may have met Dartrix, Quilava, and Dewott in your other adventures," the video's description reads. "But you've never encountered their Hisui region Evolutions."
Ahead of the game's release next week, a number of Japanese video game websites have been posting their first impressions of Pokémon Legends: Arceus following a recent hands-on event.
Famitsu praised the game for moving the Pokémon series in a new direction, saying: "It's safe to say that this game is completely different from previous titles.
"The first thing that impressed me when I started playing was the exhilarating feeling of moving around freely in the vast field."
Blending action and exploration with Pokémon's RPG roots, Pokémon Legends: Arceus has one of the most unique settings in the history of the series.
Rather than the regular challenge of defeating gym leaders and the Elite Four to become a Pokémon master, Legends focuses on discovery, with players challenged with studying Pokémon in a bid to complete the Hisui region's first Pokédex.
In one of VGC's recently published 2022 game previews, we said developer Game Freak's decision to break from the franchise's usual formula could deliver the refresh the series needs.
Related Products
Other Products
Some external links on this page are affiliate links, if you click on our affiliate links and make a purchase we might receive a commission.