Pokemon Home's latest update adds Scarlet and Violet compatibility
The long-awaited update lets players transfer Pokémon to the storage app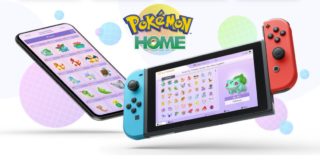 Pokemon Home has received its long-awaited Scarlet and Violet update.
As reported by Serebii, the version 3.0 update, which is said to be rolling out over the next day or two, will add support for Nintendo Switch titles Pokémon Scarlet and Violet.
This means players will be able to transfer games from those games to the Pokémon Home app for storage purposes, and copy over some of the Pokémon they already have stored in Home to their Scarlet and Violet game.
Scarlet and Violet doesn't include all 1015 Pokémon species, but it does support a number of Pokémon that can't usually be caught in the game.
These Pokémon can be added to the game through timed events, but it will also now be possible to transfer them over from Home by catching them in a different game.
Note that this update could take until 5/30 at 11pm PT to complete. Thank you for your patience.

— Pokémon (@Pokemon) May 26, 2023
Serebii has put together a 'transfer only' list, showing which Pokémon aren't normally available to catch in Scarlet and Violet but can be added to it via Home.
The patch notes, according to the game's update history on the Apple App Store, are as follows:
Pokémon Home Version 3.0 update patch notes
Added compatibility with Pokémon Scarlet and Pokémon Violet
Added a feature that allows players to view a Pokémon's stats from different games it's been in
Added Challenges and stickers
Other issues have also been addressed in order to ensure a user-friendly experience
In March a datamined list of around 220 Pokémon that will be seemingly returning to Scarlet and Violet as part of its upcoming DLC was posted online.
A Pokémon Presents broadcast in February revealed that the upcoming two-part expansion, The Hidden Treasure of Area Zero, will reintroduce older Pokémon not currently found in the Paldea region.
These will include Milotic, Ninetails, Shiftry, Metagross, Seel and Alcremie. It seems that when the DLC is release, these Pokémon may be transferrable from Pokémon Home too.
Related Products
Other Products
Some external links on this page are affiliate links, if you click on our affiliate links and make a purchase we might receive a commission.