Pokémon Go monthly earnings reportedly plummeted to their lowest in five years
The drop is said to follow controversial changes to its Remote Raid passes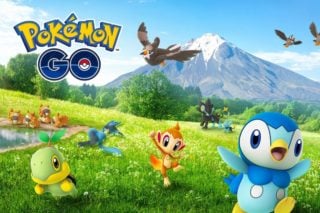 Pokémon Go reportedly saw a large dip in revenue last month, with earnings dropping to the lowest they've been in more than five years.
That's according to data from app store analytics firm AppMagic (reported by Mobilegamer.biz),  which suggests that Niantic's game saw monthly revenue of $34.7 million in April, making it the 12th highest-grossing mobile game worldwide.
While this appears positive, however, the site notes that this is a sharp drop compared to March's $42.8 million revenue, which itself was a notable dip compared to the $57.9 million it made in February.
Mobilegamer.biz notes that the game's revenue appears to rise and fall each month as new in-game events are launched, but that a drop of 40% over a two-month period is nevertheless uncharacteristically steep for a consistently popular game.
Last year the game grossed $703 million in total, an average of $58 million per month, so April's figures are well below average. Indeed, according to the report, the $34.7 million figure is the game's lowest monthly revenue since February 2018.
One of the reasons for the sudden drop could be backlash to Niantic's decision to change the way its Remote Raid system works, a move that some have labelled a "disability tax".
Remote Raids were introduced early during the COVID-19 pandemic as a way for players to take part in Raids without leaving their home.
For some, their introduction also had the added benefit of making the game more accessible to disabled or immunocompromised players who would have difficulty leaving their home to play the game even when there wasn't a pandemic.
However, Niantic announced on March 30 that it would be increasing the price of Remote Raid Passes and limiting players to five Remote Raids per day.
Niantic explained that this was "a necessary step toward [its] goal of preserving and improving the unique experience of playing Pokémon Go", saying: "Remote Raid Passes have come to dominate the experience of playing Pokémon Go in a way we never intended."
While the decision to limit Remote Raid Passes and make them more expensive was seemingly intended to encourage players to go outside and visit raid locations in real life – in the original spirit of the game – others have pointed out that the move has a negative impact on disabled players.
"Niantic is doubling the cost of playing Pokémon Go remotely, and limiting how much you can play," AbleGamers senior director Steve Spohn said on Twitter when the change was originally announced.
"This is what we call a disability tax. If you can't leave your home or live in an inaccessible area, you can play, but it's going to cost you, and you can't play much."