Pokémon dev's cult 3DS game is officially coming to iPhone
Pocket Card Jockey first released for Nintendo's handheld in 2013
Pokémon developer Game Freak is bringing its cult favourite 3DS game Pocket Card Jockey to iOS.
Pocket Card Jockey: Ride On! will debut on Apple Arcade on January 20, the developer announced on Tuesday.
The cult favourite solitaire horse racing game was released on the 3DS in Japan in 2013, before coming to the west three years later.
The original has players clearing Solitaire decks, with their performance affecting how well their horse performs. After this, the player chooses the horse's position on the racetrack to avoid hitting other horses.
The player continues switching between playing more games of Solitaire and positioning their horse until the race is over. The better a combo the player can build while clearing cards, the better their 'unity' with the horse.
Reception to the original was largely positive, and it currently has a score of 83 on Metacritic.
According to Game Freak, Ride On! will keep the basic rules of the 3DS entry, but racing segments have been recreated in 3D.
"Players will jockey their way to victory by clearing cards with sequential numbers in quick succession," the official description reads. "The more cards they clear, the better their horse's mood will be — which in turn helps them charge energy during races.
"The position of their horse on the track determines the difficulty of their solitaire rounds. There are also special cards that can be picked up if they run over them while racing. These cards provide a variety of benefits, including leveling up their horse, learning new skills, or improving their performance in a race.
"Once their steed is fully charged and in the homestretch, they will then have to sprint their hearts out to secure victory. As players prepare for future races, they'll be able to take the beloved steeds they've grown on the racetrack and pair them up on the farm.
"The foal they produce will inherit their abilities and become their new partner on the racecourse. Breed generation after generation of racehorses in the quest to conquer all the biggest, most prestigious races in the world. "
Pocket Card Jockey was one of two non-Pokémon games developed for the 3DS by Game Freak, the other being rhythm game HarmoKnight.
These games were a result of Game Freak's Gear Project initiative, which encouraged creators to pitch original game ideas during quiet periods.
So far, Gear Project has resulted in HarmoKnight, Pocket Card Jockey, Tembo the Badass Elephant, GIGA WRECKER and Little Town Hero, all of which released after 2012.
Speaking to VGC in 2019, a senior Game Freak director said the company was increasingly prioritising original game creation, in order to grow the experience of its staff.
That's according to programmer and director Masayuki Onoue, who told VGC that by taking breaks from its flagship Pokémon series, Game Freak's creators can return to the franchise "refreshed" and improve the series with experience gained.
Related Products
Pokémon Scarlet and Violet Dual Pack
Pokémon Violet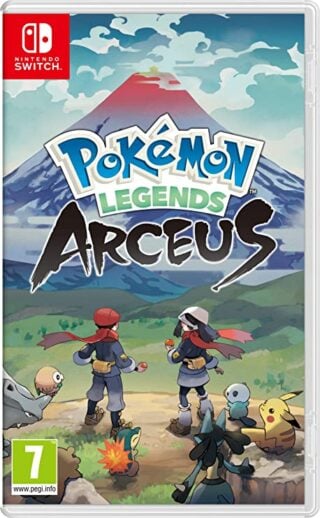 Pokémon Legends Arceus (Nintendo Switch)
Some external links on this page are affiliate links, if you click on our affiliate links and make a purchase we might receive a commission.