Pokémon Center's UK online store has quietly opened
Exclusive plush, clothing and more are now available in the UK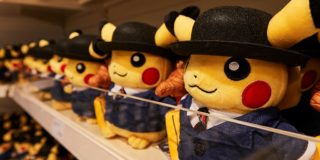 The Pokémon Center UK, an online store selling large amounts of Pokémon merchandise, has soft-launched.
The Pokémon Center, which has been open for US and Japanese audiences for years, and even has physical locations in Japan, houses apparel, plush and trading card products that aren't found in traditional stores.
Despite only launching this week, items such as an almost 20inch plush of the Pokémon Piplup has sold out, despite costing £89.99
Currently, the store features plush, pins, trading card products and clothing, with additional tabs for home and video game items that have yet to launch.
Despite the recent release of Pokémon Brilliant Diamond and Shining Pearl, the video game section of the site currently only lists the upcoming Pokémon Legends Arceus.
Pokemon Brilliant Diamond & Shining Pearl - the VGC review
In 2019, a physical Pokémon Center pop-up store was opened in London's Westfield Sheperd's Bush shopping centre for four weeks, which saw daily queues of up to five hours.
The store was set to return to London in 2020 during the 2020 Pokémon World Championships, but this was cancelled due to the pandemic.
Pokémon Brilliant Diamond & Shining Pearl recently enjoyed the second-best launch of any Switch game in Japan.
The remakes of 2006 DS games Pokémon Diamond and Pearl sold 1,395,642 units in their first three days, according to Famitsu.
This includes physical boxed copies and download cards sold at Japanese retailers, but it doesn't include digital copies bought directly from the Nintendo eShop.
Only one other Switch game has managed to sell more copies in its first three days in Japan, which is Animal Crossing: New Horizons.
Brilliant Diamond & Shining Pearl's three-day sales total is slightly higher than Pokémon Sword & Shield, which sold 31,000 fewer copies in its first three days.