Pokémon Center London pop-up store map reveals new products
An exclusive World Championship Pikachu figure will be on sale at the event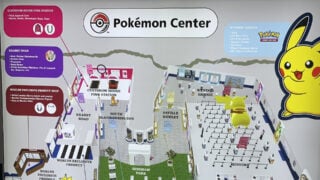 Here's your first look at the Pokémon Center London pop-up store floor plan, and what's on sale at the event.
Posted to Twitter by user Jake Lazzari, the merch store, which is the largest Pokémon Center pop-up store so far, will include several London-themed areas, including Krabby Road, Saville Rowlet and South Blazikensington.
Pokemon Scarlet and Violet Guides:
Pokemon Scarlet and Violet walkthrough, tips, and Pokemon locations | Roaring Moon location | Iron Valiant location | Shiny sandwich recipes | Pokemon Scarlet and Violet Legendaries | How to find Shiny Pokemon in Scarlet and Violet
This map also gives fans their first look at what's going to be on sale at the event. The Pokémon Company has already revealed the exclusive plush that will be sold at the show, but we now know that exclusive World Championship 2022 shirts, a  World Championship Pikachu Figure and exclusive coins will also be on sale.
Fans can visit the following areas when they enter the Pokémon Center pop-up.
Worlds Exclusive Product Shop
WC22 London Shirts (adult and youth)
Worlds Championship Pikachu Figure
Coin & Marker Sets
Krabby Road
Bear Walker Skateboards
Switch Case
Playmats
Deck Boxes
WC22 Novelties (Stickers, Pin & Lanyard Set, Magnets, Etc)
Custsnom House Pink Station
Pink Apparel Line
Shirts, Socks, Messenger Bags, Caps
South Blazikensington
Pokémon Center X OMOCAT Shirts
Pokémon Trainer Shirts
Gingham Park
Gingham Line Apparel
Gingham Line Novelties (Pin & Lanyard Set, Messenger Bag, Neckties, Headwear)
Saville Rowlet
Wyndon Bridge
TCG
GO Mini Tins
GO Poke Balls
Booster Packs
Pin Sets
Wand Company Balls
GO Figure Collection
The pop-up store will be at the ExCeL Centre from August 17-21 as part of the Pokémon World Championships, which are taking place in London this year.
However, the last time a Pokémon Center pop-up store opened in London, the queues it created were enormous.
As such, fans are now encouraged to book a time slot online in order to reduce potential waiting times.
When the Pokémon Center pop-up store last visited London, the shop sold out of the London City Pikachu plush every day, often before 2PM.
The Westfield Shepherds Bush Pokémon Center pop-up store was open for four weeks between October and November 2019, with daily queues of up to five hours. More than 30,000 customers visited the store, it's claimed.
Related Products
Other Products
Some external links on this page are affiliate links, if you click on our affiliate links and make a purchase we might receive a commission.