Pokemon Center London closed early for 4th day in a row
Westfield shopping centre says it's 'never had queues this long before'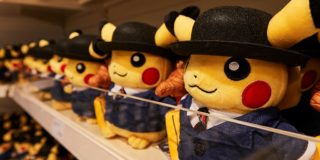 The Westfield London shopping centre closed queuing for entry to the new Pokémon Center London for a fourth straight day on Monday.
In a statement, Westfield said interest in the pop-up shop – which opened on Friday, October 18 – has been "unprecedented" and that it's "never had a queue this long before".
Since its opening day the Pokemon Center London has seen queues on average of four to five hours long, Westfield said.
On each day access to the queue has been closed early. This has happened around midday on all but one occasion – on Monday, October 21, when access was stopped at 4pm, despite the store officially not closing until 10pm.
UPDATE: Westfield closed queuing for entry to the Pokémon Center London again on Tuesday, at around 2pm.
On Tuesday the store moved to "improve in-store experience for visitors" by reducing its operating hours to 10am-6pm.
The store had already enforced a limit of six items per customer (except on Nintendo products) and warned that despite daily restocks, some products may sell out before the shop's closure on November 15.
Pokemon Center London sells a range of Pokémon Center-branded products, including designs exclusive to London, and offer visitors limited access to a Pokémon Sword and Pokémon Shield-themed area featuring a playable demo of the upcoming Switch game.
The pop-up shop, which will be located at the Shepherd's Bush shopping centre until mid-November, opened at 10am on October 18.
But people had reportedly been queuing since 4am to gain early entry, and by 11am the line stretched out of the shopping centre and down the street.
Permanent Pokémon Center stores have been in operation throughout Japan and North America for several years, offering many exclusive items for sale.
Pokémon Sword and Pokémon Shield releases on November 15, the day the pop-up store in London is set to close its doors. The title's available to pre-order from retailers including Nintendo, Amazon, Best Buy and Game.