PlayStation Now adds LittleBigPlanet 3 and Gravity Rush 2
The Surge and Red Faction Guerrilla Re-Mars-tered also join the service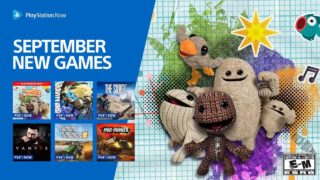 Sony has announced a fresh batch of games coming to PlayStation Now as part of the cloud gaming service's September update.
The following titles have been added to the subscription service in both Europe and the US:
De Blob
Farming Simulator 19
Gravity Rush 2
LittleBigPlanet 3
MudRunner
Red Faction Guerilla Re-MARS-tered
Ride 3
The Surge
Titan Quest
Vampyr
Sony said August's most played PS Now games in the US were Fallout 4, NBA 2K18, WWE 2K18, Rocket League, Batman Arkham Knight, Mortal Kombat X, Wolfenstein: The New Order, Mafia III, Doom, Sniper Elite IV, Borderlands: The Handsome Collection and For Honor.
PlayStation Now launched in 2014 and provides unlimited access to a growing library of over 800 games, although the exact number and selection varies by region.
Priced at $19.99/£12.99 per month or $99.99/£84.99 per year, PlayStation Now has some 700,000 subscribers.
Sony Interactive Entertainment CEO Jim Ryan said in July he expects PS Now to play an increasingly important role in the PlayStation business over the coming years.