PlayStation exec fired following pedophile allegations
PSN senior vice president was filmed in an amateur pedophilia sting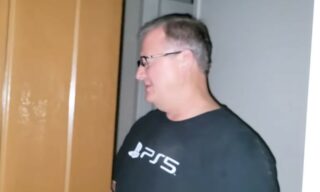 Sony has confirmed that a senior PlayStation executive has been fired after he was accused by an amateur pedophilia sting group.
George Cacioppo, who was senior vice president of the PlayStation Network since 2013, was allegedly caught trying to arrange sex with a decoy posing as a 15-year-old boy, according to a video by People vs. Preds.
According to the video, Cacioppo spoke with a person who said they were 15 years old on Grindr, the social networking app for gay, bi and trans people.
The exec is then alleged to have exchanged pictures and provided the decoy with his address in order to have sex.
The exec is seen being approached outside his home in the footage, wearing a PlayStation 5 shirt, before closing the door on the person behind the camera accusing him of approaching who he believed was a 15-year-old.
In a statement provided to Cnet, Sony confirmed that Cacioppo has been fired.
"We are aware of the situation and the employee in question has been terminated from employment," Sony said in a statement on Sunday.
It's not yet clear if law enforcement has been alerted, and Cnet states that San Diego Police didn't immediately respond to a request for comment on the matter.
A representative from People v. Preds told Kotaku that the reason the video was released publicly, rather than handed to police, was that "The police department doesn't work with 'Cyber groups' like us. That's when the internet takes over."