PlayStation console exclusive Forspoken has been delayed until October
The team "will focus all of our efforts on polishing the game" according to a new statement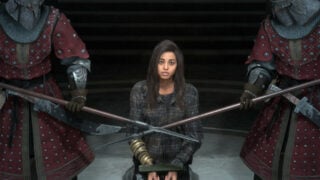 Upcoming Square Enix game Forspoken has been delayed five months until October.
In a Tweet from the official Forspoken Twitter account, the developer Luminous Productions said:
"We have made the decision to move the release date of Forspoken to October 11, 2022. Our vision for this exciting new IP is to deliver a game world and hero that gamers across the globe will want to experience for years to come, so getting it right is extremely important to us."
The statement continued: "To that end, during the next few months we will focus all of our efforts on polishing the game and can't wait for you to experience Frey's journey this fall".
Announced in June 2020, Forspoken is the debut game from the Japanese company's new Luminous Productions studio.
The Final Fantasy publisher has previously said it's aiming to deliver "the highest quality visuals ever seen in an open world game" with the PS5 exclusive.
The game will reportedly be a PlayStation console exclusive for two years.
Billed as "a narrative-driven adventure set in a beautiful yet cruel world," the game sees players take on the role of Frey Holland, "an ordinary young woman who must harness her magical abilities to survive in the fantastical yet dangerous land of Athia".
Forspoken - The Game Awards 2021 trailer
The lead character is portrayed by English actress Ella Balinska, who is known for starring in 2019 film Charlie's Angels.
In our preview we said that Forspoken had the chance to be a "PS5 showpiece".
"Coming from the team behind Final Fantasy XV, which revolutionised Final Fantasy combat, by making it actually fun to play is a great sign. The various abilities that have been teased in the footage seem to point to a game with a lot of variety, but how much of that will make into the final experience is yet to be seen."