PlayStation confirms it has suspended sales in Russia
"SIE joins the global community in calling for peace in Ukraine"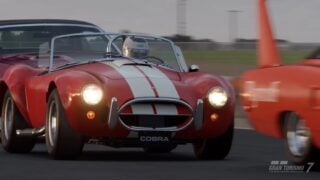 Sony Interactive Entertainment (SIE) has become the latest major video game publisher to halt sales of its products in Russia following the country's invasion of Ukraine.
Last Friday, SIE quietly pulled Gran Turismo 7's planned Russian release, but it didn't comment publicly on the move until today.
"Sony Interactive Entertainment (SIE) joins the global community in calling for peace in Ukraine," it said in a statement issued to VGC on Wednesday. "We have suspended all software and hardware shipments, the launch of Gran Turismo 7, and operations of the PlayStation Store in Russia.
"To support humanitarian aid, Sony Group Corporation announced a US$2 million donation to the United Nations High Commissioner for Refugees (UNHCR) and the international NGO, Save the Children, to support the victims of this tragedy."
Gran Turismo 7 review | VGC
Last week Ukraine's Deputy Prime Minister called on Xbox and PlayStation to temporarily end product support in the Russian and Belarusian markets following the invasion.
Microsoft announced on Friday that it would stop selling products and services in Russia, whose invasion of Ukraine began on February 24 and is being aided by Belarus.
Other major gaming companies to suspend sales in Russia include Nintendo, Electronic Arts, CD Projekt, Take-Two, Ubisoft, Activision Blizzard and Epic Games.
Nintendo confirmed earlier on Wednesday that it has delayed its upcoming Advance Wars 1 & 2 remakes as a result of the ongoing invasion of Ukraine, which has seen parts of the country devastated by heavy weaponry.
"In light of recent world events, we have made the decision to delay Advance Wars 1+2: Re-Boot Camp, which was originally scheduled to release on Nintendo Switch on April 8th," the company said.