PlayStation classic Journey hits iOS in surprise release
Thatgamecompany adventure out now on App Store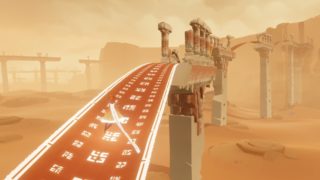 Celebrated indie adventure game Journey has released for iOS.
The game is available now for $4.99/£4.99, on both iPhone and iPad.
Following earlier releases Flow and Flower, Journey was the third and final title in a three-game exclusivity deal developer Thatgamecompany signed with publisher Sony.
It was originally released for PS3 via PlayStation Network in March 2012 and became the fastest-selling game on the service in both the US and Europe, before arriving on PS4 in July 2015.
Thatgamecompany describes the game as an "anonymous adventure" — players can meet and assist each other on their journey, but they're unable to communicate via speech or text (instead, the game features an audio ping system) and their names aren't revealed to one another until after the game's been completed.
"Explore the ancient, mysterious world of Journey as you soar above ruins and glide across sands to discover its secrets," reads the game's official blurb.
"Play alone or in the company of a fellow traveler and explore its vast world together. Featuring stunning visuals and a Grammy-nominated musical score, Journey delivers a breathtaking experience like no other."
Journey won multiple game of the year awards and both the PS3 and PS4 versions have a score of 92 on review aggregation site Metacritic, based on 78 and 45 reviews respectively.
Journey released for PC via the Epic Games Store in June.
Sky: Children of the Light, the newest title from Thatgamecompany, topped one million downloads within five days of its iOS release on July 18.