PlayStation announces joint acquisition of the Evolution Championship Series
Evo 2021 Online is coming in August and remains "open to all platforms"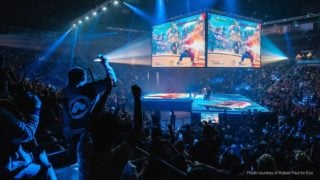 Sony Interactive Entertainment (SIE) has teamed up with a new esports venture, RTS, to jointly acquire the Evolution Championship Series (Evo).
Terms of the transaction including the acquisition cost and ownership split weren't disclosed.
The long-running fighting game event will return this year as Evo Online, an online-only competition taking place from August 6-8 and August 13-15, with co-founders Tom and Tony Cannon remaining closely involved as key advisors.
"Fighting games have been a vital part of PlayStation's legacy and our community since the very beginning, and we've been thrilled to partner with Evo over the years," said Steven Roberts, SIE's VP of global competitive gaming.
"This joint acquisition with RTS marks a new chapter of collaboration with Evo's co-founders, Tom and Tony Cannon, and their passionate community of fighting game fans."
Players from North America, Europe, Asia and Latin America will be able to enter Evo Online for free and compete in Street Fighter V: Champion Edition (PS4/PS5/PC), Mortal Kombat 11 Ultimate (PS4/PS5), Tekken 7 (PC) and Guilty Gear Strive (PS4/PS5).
Following the announcement, Mark Julio, director of global business development at Evo, confirmed that the event "is still open to all platforms", adding: "The teams at PlayStation and RTS are enabling us to continue working with our community to support fighting games."
Evo's website also states: "All gaming platforms will remain welcome at Evo. Stay tuned for more game announcements."