Playdate handheld pre-orders start next week and will 'not sell out'
$179 console will start shipping later this year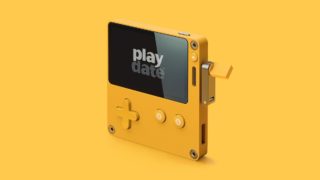 Panic has announced that pre-orders for its Playdate handheld will start next week.
According to an email newsletter sent out to subscribers, pre-orders will begin on Thursday July 29 at 10am PDT / 1pm EDT / 6pm BST.
The first batch will consist of 20,000 units, but Panic assures would-be customers that the system will technically not 'sell out'.
If a customer is one of the first 20,000 to order the handheld they will receive their Playdate among the first batch being sent out in late 2021.
Anyone who wants to pre-order after this milestone is reached will still be able to place the order – they will simply be added to a waiting list and receive their unit when the next batch is produced.
The Playdate itself will sell for $179, while an optional cover will be sold for $29.
At launch, the handheld will only ship to 16 countries, including the United States, Canada, Australia, Japan, the UK and 11 other European countries.
Playdate features a 2.7-inch black-and-white screen with a resolution of 400 × 240 – around four times the pixels of the Game Boy's screen. It has a D-pad and two buttons, plus a crank which flips out from the side of the device.
Panic, which has predominantly developed Mac and iOS software for the last 20 years but is also the publisher of Firewatch and Untitled Goose Game, bills the crank as "a rotating analogue controller that puts a whole new spin on games".
As part of the $179 price, purchasers get a 24-game 'season' of free games (rather than the 12 games originally advertised).
Titles are specially made for the system by indie developers, including Katamari Damacy creator Keita Takahashi and Lucas Pope (Return of the Obra Dinn, Papers Please), and two new games will be released each week via Wi-Fi as part of Season One.